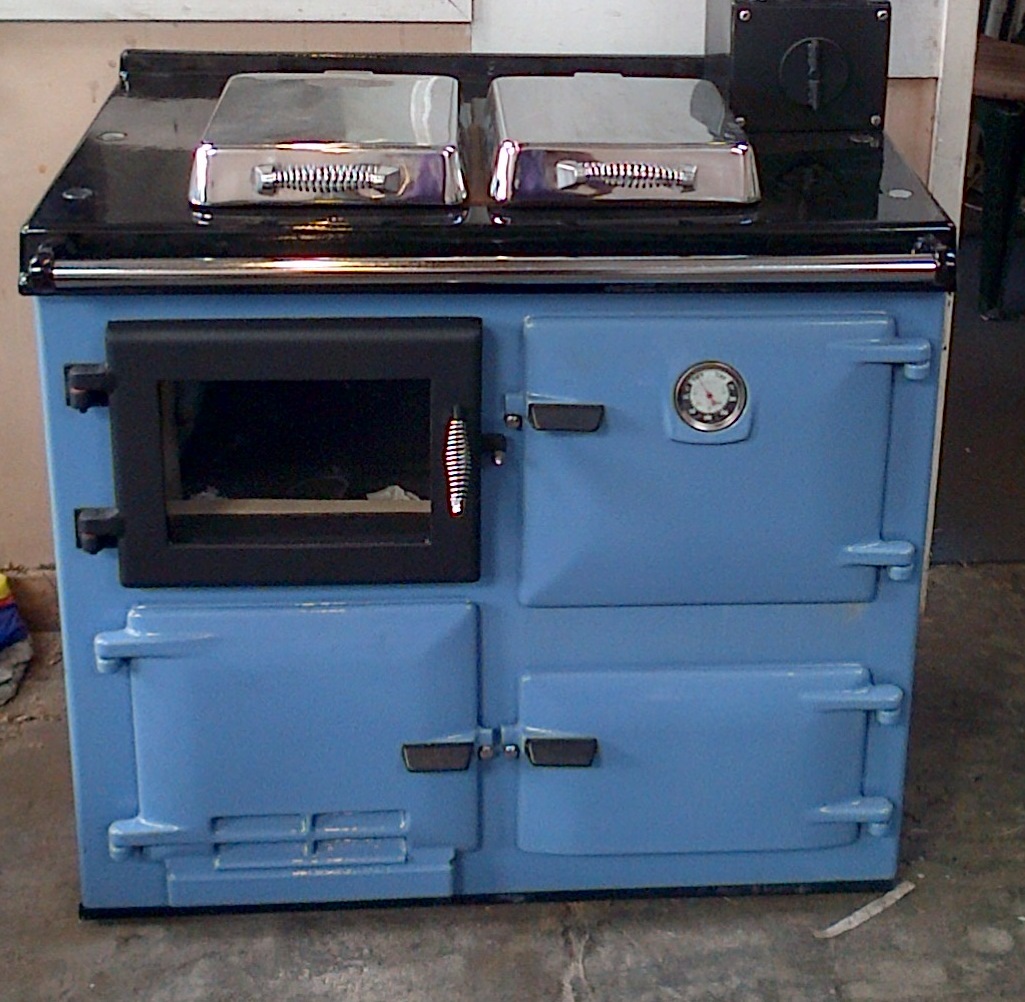 This is a Wedgwood blue
The Flameview dry cooker ,based on the 300 series Rayburn body has the following features
size 905mm left to right,815mm floor to hob,542 front to back (base size) 1260 height from floor to top of raised lid handle
We retain the front,base,top,ovens,hinged lids and part of the flue box.internally all other parts are NEW
The fire door is made and the frame is fitted into the front which is cut out to accommodate.The glass insert has an air wash to reduce sooting.
the ash pit door -inside the original outer door- has an air spinner and inside a riddling grate and ash can.a tool is provided.
The cooker is made to order and should it be required a small boiler could be added at a later stage -approx output 20,000 btus or 4 rads maximum.
The original colour enamel on the front is retained ,usually only having very minor marks as gas cookers don't get banged about.
dry cooker in Hunter Green near Taunton,Somerset
Colours often in stock (in Derby) are
Claret (deep red)     Flame red (pillar box,ferrari)  White
Hunter Green        Dark Blue      Wedgwood (light blue)  sable
Emerald Green (bright) Dark Brown
less common colours are Teal,Cream,British Racing Green,Gloss Black.
matt black is an option – requires shotblasting & respraying-adds £400 to cost
Top plate.These are supplied with wear,or re-enamelled at +£250 cost
Chrome domes.We cannot viably replace these – a matt finish is the only option at £100 per cooker
Each cooker is supplied with installation and user instructions
Delivery subject to time of the year but often 2-3 weeks in summer, 4-6 weeks in winter.