Aga Stock
My stock is limited, as I can get in any particular cooker from trade mates.
In the works at present there are several  Agas which will all convert to the Electrickit. Or we can convert yours-maybe change colour?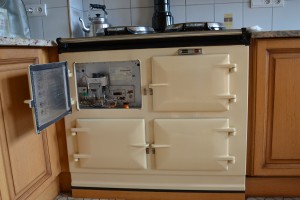 3 oven cream Aga , currently LPG but can go natural gas.
new cost £11020. Liberated from France where servicing wasn't available .Latest model, unmarked with new black top and chrome domes. Built in your kitchen £6999 in mainland UK. No vat
2 oven Pre 74 Aga 2 oven. New chrome domes & black enamel top, all internal parts shot blasted and oiled. New side & rear panels, door backs,tunnels . Guide cost £4999 inc building and with Electrickit conversion fitted, mainland UK. Original colours available  Dark Blue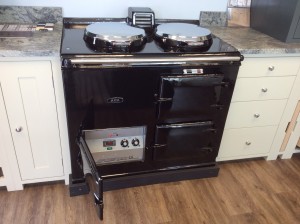 a black Post 74 2 oven ex oil .As above £4999.No vat
ANY colour Aga can be supplied -with a new enamel finish or yours can be updated with all new parts.So if you have a colour you wish to change , we can arrange to strip and fit a new front ,top, domes etc taking yours in part exchange.This is MUCH faster than ordering another cooker -and cheaper!
With the DROP in oil prices a lot of Aga owners are unsure if to stay with that fuel,or convert to electric.There are plusses and minus's -ask for advice.