October 2015 - Please note that we now have a new website here:- www.tradcookers.com
Due to lack of time & high demand for our Spares and Snugburners we are not actively looking to sell more Aga or Rayburn reconditioned cookers Please advise requirements and I will broker you a cooker!
Other models and colours to order - UK or abroad - delivery building cost by negotiation!
any spec can be supplied -except balanced flue or power flue
Agas - there are interesting things going on in the Aga world - which will be to your advantage! Read on
70% of new Agas sold are ELECTRIC

Aga are offering a guaranteed trade in - so the market supply of second hand cookers will diminish as they won't want these getting refurbished!

The price of oil and gas cookers being sold has DROPPED - the trade are being offered a lot as people object to paying £25 a week for a GAS or OIL wick burner 2 oven cooker to heat fewer meals that when "wifey stayed at home" looking after the children

latest electric Aga order in the Ardeche, in S France. We will supply UK (anywhere) or abroad via a travelling expert installer, who has fitted Agas in USA,Norway,Czech, Italy, France .

So we have - the Refurbished Deluxe ECO Aga to run on ELECTRICITY

Two of the big names in our business have teamed up and developed an ELECTRIC burner to fit into reconditioned Aga's from the 50s onwards. Why?

Because of increasing legislation the cost of installing a GAS or OIL Aga has increased - you may be told that your chimney needs re-lining, new oil tank, gas supply, changes in flues etc and this ALL adds to the cost. Yet to install an ELECTRIC powered one involves a 13 amp socket - and fitting a spur usually won't break the bank! This cream pre 74 ( originally solid fuel) is now working near Cookstown, Northern Ireland .

Note we are only supplying a COMPLETE COOKER - not a conversion. Price fitted is £5500 inc labour, cooker, building - and a trade in is possible on your old Aga as well. Like the one in the photo? Identical one immediately available EX STOCK from our manufacturer. Any other colour - 2 weeks delivery!

Fuel consumption. Never easy to give exact figures as we all cook differently but here's a week's use in the showroom

13 amp Electric Conversion Examples of Electricity Usage when Cooking One Meal a Day Using Top Oven at 225 degrees Use
Meter Reading Cooking Time (Minutes)
Monday Start 613kw End 611kw Menu Lasagne & Garlic Bread, Fried Mince 50 Oven/Hob
Tuesday 636kw 640kw Roast Chicken, Potatoes Potatoes & Carrots 90 " "
Wednesday 663.5kw 666.2kw Oven Battered Fish & Chips 30 Hob
Thursday 689.3kw 692.9kw 4 Country Pies & Jam , Roly Poly 50 Hob
Friday 727.9kw 729.9kw Oven Chicken Drumsticks, Chips Roasted Carrots 50 Oven/Hob
Saturday 747kw 749kw 2 Lasagne & 2 Curry & Rice 50 Hob
Sunday 770.8kw 773kw Beef & Roast Potatoes 90 Oven / Hob
Total Usage for week with top Oven at 225 degrees = 162kw
Total Usage for Cooking Seven Main Meals = 18.5kw

This is just an idea. Here my electricity supplier (N Power) charges me 10.5p per unit (N Power), so that's a cost of £17 for a week's cooking, kettle and kitchen warmth. Your use may be MORE or less and I haven't taken standing charges etc into account.

Fitted near Hebdon Bridge in West Yorks- with 2 ring ceramic hob -£7500 all in - BLACK with 2 ring halogen hob
Cream 4 oven in France- MUCH cheaper to run than oil there at 60p a litre. Our price around £7500 fitted- New French Aga price £12,000
colours available (in usual request order!) Cream, Black, Blue ( midnight, oxford, royal) Sky Blue, British Racing Green, Hunter Green, Red, Claret, White, Pewter (dark or light), Brown, Terracotta, Aubergine, Pistacio, Pink, Yellow, others to order!
Compare with Aga's wick burner of 10-12 gallons of oil ( 60p a litre = 10 gallons - 45 litres) £24 to £32
Or a 2 oven Aga with fitted automatic ignition Snugburner at 5.5 litres a day @60p a litre = £23
What they have designed - and proved over a 3 year field test period - is an electric burner that fits into an Aga ( originally oil gas or solid fuel) and it works as well as it should! Over 100 engineers and their partners enjoyed a lunch cooked on ONE 2 oven Aga - albeit by a professional chef! No, we can't CONVERT your Aga ( no doubt 'elf and Safety comes into it) but we WILL offer a trade in which will help!
Costs of a 2 oven in the colour of your choice will be around £5500 FITTED or £6500 for a 4 oven (with vat & depends on distance we have to travel). Versions offered will be the Deluxe or the Standard and will look like the one above ( door open for viewing only!). Apart from having a suitable 13 amp supply ( like an immersion heater) and a base to put it on - you can forget all the rest!
To vent the oven a pipe can be run (28mm ) around the wall to outside but if you want the Aga in the centre of a room (island style) then it will need a vertical exit .
No water heating versions currently available- let the boiler boil and the Aga cook!
some facts on the Electric Reconditioned Aga
Annual service - safety check

built in a day - then up and running

6 hours to full heat

long life elements double wrapped

chimney venting of cooking aromas possible!

correct heat in bottom oven- hotter hob

running costs comparable with other fuels - but no mess , dust, smells or explosivity!

ALL COLOURS AVAILABLE EX STOCK - you can choose from cream, dark blue, midnight blue, Brit Racing Green, Red, White, Aubergine, Pistacio, black, pewter - try us!

We can arrange an install anywhere inc FRANCE or further - ask for a price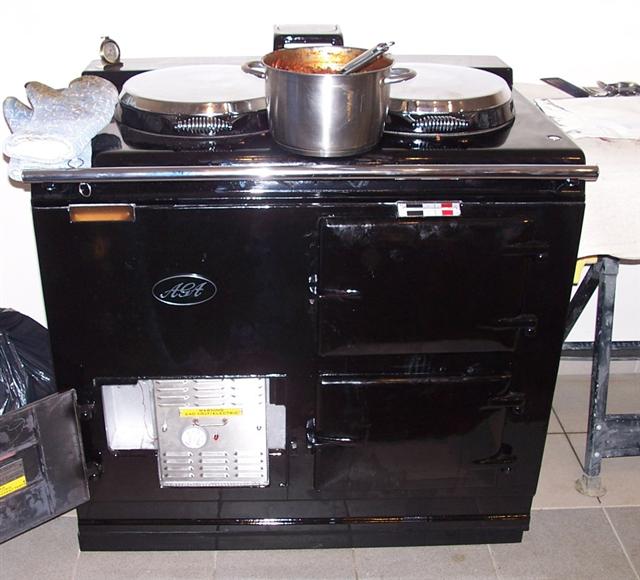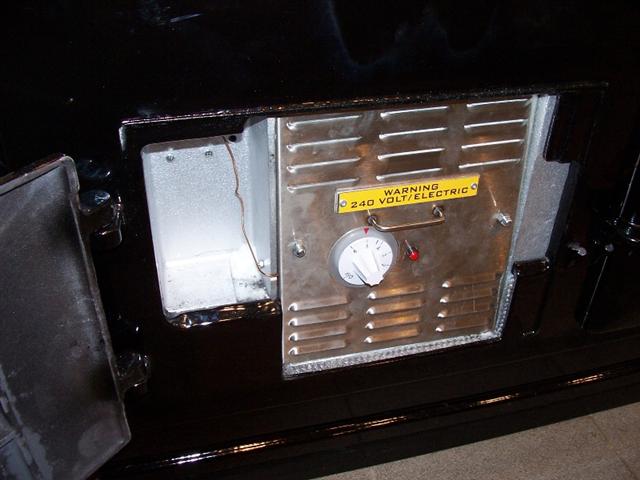 We are trying out something NEW in the cooker business. This is how it works
Agas in stock today 07 November 2011
1 x White solid fuel pre 74 deluxe - basket case £499
1 x turquoise OIL (OC) pre 74 deluxe- basket case £799
1 x cream pre 74 deluxe -basket case £499
1 x Hunter Green Solid Fuel - £600 stripped ready to collect
1 x British Racing Green Pre 74 deluxe Oil cooker ,GOLD domes £799
1 x White gas fired Aga model OC-deluxe -with NEW gas burner £999
all the above can have a Snugburner! All 2 oven versions, boiler for hot water available for each
Many Aga parts second hand in stock inc gas burners, oil burners, ovens and castings - ask!
These cooker are in nice original condition with minor chips on the front of each one. We think you would search hard to find a better original condition cooker, why not come to our store and see the front / top etc ( in dismantled state ) -check if nice enough for your kitchen! Cooker same model as this one (we did earlier) near Exeter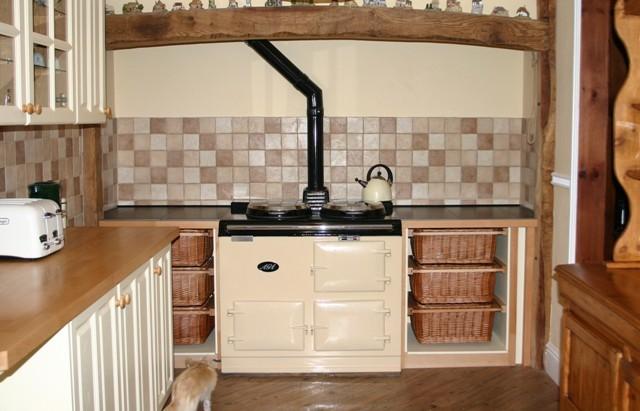 Others in stock selling on behalf of Trade Friends- give me your wishes and I will see what's about!
Snugburner installed - see www.snughomecookers.co.uk for details
Barry J Charman - mail me barry@tradcookers.com